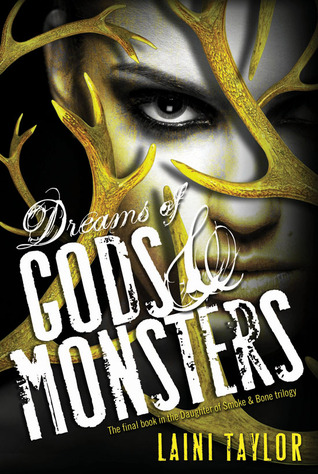 Title: Dreams of Gods & Monsters
 Series: Daughter of Smoke & Bone (#3)
 Author: Laini Taylor
 Genre: fantasy, YA
 Rating: ★★★½
 In short: gorgeous prose, a terribly beautiful world, but suffering from extra characters and a plot that hung on too late.
Spoilers for the first two books in the series!
Warning: this review is riddled with (non-spoilery) quotes because Laini Taylor's writing is mindblowing. Just because I can.
Goodreads: By way of a staggering deception, Karou has taken control of the chimaera rebellion and is intent on steering its course away from dead-end vengeance. The future rests on her, if there can even be a future for the chimaera in war-ravaged Eretz.

Common enemy, common cause.

When Jael's brutal seraph army trespasses into the human world, the unthinkable becomes essential, and Karou and Akiva must ally their enemy armies against the threat. It is a twisted version of their long-ago dream, and they begin to hope that it might forge a way forward for their people.

And, perhaps, for themselves. Toward a new way of living, and maybe even love.

But there are bigger threats than Jael in the offing. A vicious queen is hunting Akiva, and, in the skies of Eretz … something is happening. Massive stains are spreading like bruises from horizon to horizon; the great winged stormhunters are gathering as if summoned, ceaselessly circling, and a deep sense of wrong pervades the world.

What power can bruise the sky?

From the streets of Rome to the caves of the Kirin and beyond, humans, chimaera and seraphim will fight, strive, love, and die in an epic theater that transcends good and evil, right and wrong, friend and enemy.

At the very barriers of space and time, what do gods and monsters dream of? And does anything else matter?
Phew. That is a long blurb.
Once upon a time, an angel and a devil pressed their hands to their hearts and started the apocalypse. 
Laini Taylor could write anything, and I'd read it and love it. After Dreams of Gods & Monsters, though, I'm starting to revise that last clause. The finale to a gut-wrenching, beautiful series, Dreams had a heavy burden to bear. Also, there was the pulse-pounding, holy-guacamole ending of Days of Blood & Starlight which probably left every reader reeling. Still, I feel a little cheated—not because this book had too little, but because it had too much.
We will fight for our world to the last echo of our souls.
Dreams of Gods & Monsters returns with the chimaera rebels and the army of Misbegotten forging an uneasy truce. With the threat of Jael looming over both Eretz and the human world, the Misbegotten have been convinced that they have no other choice. The chimaera, on the other hand, have been tricked with a bit of smoke and illusion from Karou. Ziri wears Thiago's body, and this deception is all that's keeping the chimaera from tearing the angels' throats out.
First off, I love Zuzana and Mik. They're amazing. Hilarious. ❤ Not that Dreams of Gods & Monsters suffers from a lack of humour. But they more than made up for the tragedy that was Akiva and Karou—I could've done with less angst over there. Come on, we've come this far, haven't we? Not to mention a little less dreaming. It's almost as if they literally became their past selves—on the one hand, as full of new love as Akiva and Madrigal, and on the other, as bitter and angsty as Akiva and Karou in Days of Blood & Starlight. I expected their relationship to move further than that. One character whose development I adored was Liraz. And though I thought her subplot was a bit contrived, it was super adorable.
What I didn't care for were the additions. The side-story of the Stelians would've been interesting if it had stayed a side-story, but they kind of came out of nowhere and became an enormous part of the climax. A bit too far-fetched for me. And then, of course, Eliza and her monsters. I liked Eliza, honestly, and her story too. But to pile it onto what is already a fairly complicated story was overdoing it. I understand that the Stelians and Razgut were loose ends that Taylor felt needed to be tied up, but the way it was done took away from the main story. And that ending? A tad anticlimactic. I felt (like in Champion, by Marie Lu) that everything happened too easily.
But I'm sure there are people who can overlook that. Dreams of Gods & Monsters was still funny, tragic, and beautifully written.
People with destinies shouldn't make plans.