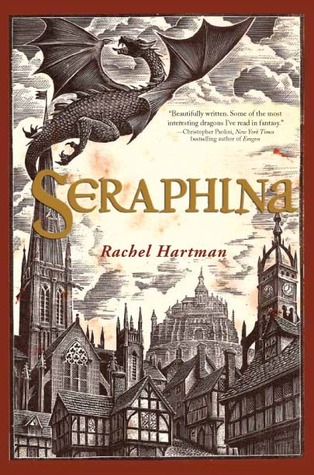 Title: Seraphina
 Series: Seraphina (#1)
 Author: Rachel Hartman
 Genre: high fantasy, YA
 Rating: ★★★★★
 In short: beautiful. A well-told story, and a cast of characters that are breathtaking in their realness. Much squeeing!
Goodreads: Four decades of peace have done little to ease the mistrust between humans and dragons in the kingdom of Goredd. Folding themselves into human shape, dragons attend court as ambassadors, and lend their rational, mathematical minds to universities as scholars and teachers. As the treaty's anniversary draws near, however, tensions are high.

Seraphina Dombegh has reason to fear both sides. An unusually gifted musician, she joins the court just as a member of the royal family is murdered—in suspiciously draconian fashion. Seraphina is drawn into the investigation, partnering with the captain of the Queen's Guard, the dangerously perceptive Prince Lucian Kiggs. While they begin to uncover hints of a sinister plot to destroy the peace, Seraphina struggles to protect her own secret, the secret behind her musical gift, one so terrible that its discovery could mean her very life.
Going into Seraphina, I was a bit worried. Not a single one of my Goodreads friends has given it a bad rating. It's one of those books that also comes with a bit of a weird premise—dragons that can take the form of humans? Hmm. Word of advice: roll with it. You won't regret it.
How dare the world be beautiful when I was so horrifying?
More than anything, Seraphina is a story of acceptance. Seraphina is an abomination, worse than a bastard, unthinkably wrong. She is a brilliant musician, but she can never take her talent a step further. She's funny, smart, likeable, but she lives in a cage, bound by her fear of being outed. And she's bitter about it. She resents it. And she hates what she is—what she believes she is, what the world thinks of her kind. And the way she comes to accept herself, to move past hating herself, is amazing. Her development throughout this book is the kind I want from all self-loathing characters everywhere. Seraphina is my favourite kind of main character. Intelligent, funny, sharp, but never two-dimensional. She's also cranky, thoughtless, bitter. Rachel Hartman has done a brilliant job with making her real.
The entire cast of characters, in fact, is amazing. Princess Glisselda, who could so easily have been the object of girl-on-girl hate, is kind, bubbly, without ever being portrayed as vapid. I salute that. And Lucian Kiggs, clever, a little tortured, thirsting for knowledge. As it says in the cast of characters, possessor of too many descriptors. There is so much to be said about a YA book with a popular girl stand-in who is never reviled, and a male lead who is never a jerk.
The plot will definitely keep you guessing. That twist?
So to conclude, you need to read Seraphina. NEED.