Hey guys! I know I've been pretty AWOL recently, but here I am again. I was writing for NaNoWriMo, but I'm happy to say that I've finished my first draft! Balloons! Cake!
Anyhow, I promise my reviewing schedule will be set back on track. Just so everyone knows, here's an update on what I'm reading: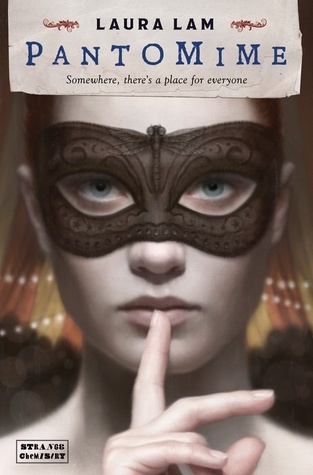 Pantomime, by Laura Lam: R. H. Ragona's Circus of Magic is the greatest circus of Ellada. Nestled among the glowing blue Penglass—remnants of a mysterious civilization long gone—are wonders beyond the wildest imagination. It's a place where anything seems possible, where if you close your eyes you can believe that the magic and knowledge of the vanished Chimaera is still there. It's a place where anyone can hide.
Iphigenia Laurus, or Gene, the daughter of a noble family, is uncomfortable in corsets and crinoline, and prefers climbing trees to debutante balls. Micah Grey, a runaway living on the streets, joins the circus as an aerialist's apprentice and soon becomes the circus's rising star.
But Gene and Micah have balancing acts of their own to perform, and a secret in their blood that could unlock the mysteries of Ellada.
 Forbidden, by Kimberley Griffiths Little: In the unforgiving Mesopotamian desert where Jayden's tribe lives, betrothal celebrations abound, and tonight it is Jayden's turn to be honored. But while this union with Horeb, the son of her tribe's leader, will bring a life of riches and restore her family's position within the tribe, it will come at the price of Jayden's heart.
Then a shadowy boy from the Southern Lands appears. Handsome and mysterious, Kadesh fills Jayden's heart with a passion she never knew possible. But with Horeb's increasingly violent threats haunting Jayden's every move, she knows she must find a way to escape—or die trying.
With a forbidden romance blossoming in her heart and her family's survival on the line, Jayden must embark on a deadly journey to save the ones she loves—and find a true love for herself.
Set against the brilliant backdrop of the sprawling desert, the story of Jayden and Kadesh will leave readers absolutely breathless as they defy the odds and risk it all to be together.