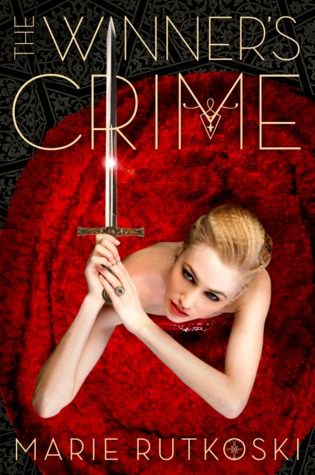 Title: The Winner's Crime
 Series: The Winner's Trilogy (#2)
 Author: Marie Rutkoski
 Genre: high fantasy, YA
 Rating: ★★★★★
 In short: talk about sophomore shine! An amazing sequel. Anyone who even remotely enjoyed The Winner's Curse will love this.
Spoilers for The Winner's Curse!
Goodreads: Lady Kestrel's engagement to Valoria's crown prince calls for great celebration: balls and performances, fireworks and revelry. But to Kestrel it means a cage of her own making. Embedded in the imperial court as a spy, she lives and breathes deceit and cannot confide in the one person she really longs to trust …

While Arin fights to keep his country's freedom from the hands of his enemy, he suspects that Kestrel knows more than she shows. As Kestrel comes closer to uncovering a shocking secret, it might not be a dagger in the dark that cuts him open, but the truth.

Lies will come undone, and Kestrel and Arin learn just how much their crimes will cost them in this second book in the breathtaking Winner's trilogy.
Oh my hot sauce. This book. THIS BOOK. I almost cried when I saw that I'd received the ARC, no lie. But to everyone agonising over the four-month wait ahead of them—it is worth it. It will absolutely, definitely be worth it.
I didn't enjoy The Winner's Curse as much as I'd expected to, but The Winner's Crime blew away all of the doubts that the first half of the first book planted. The Winner's Crime picks up where the first book left off. The Herrani have self-governance under Valoria, and for a time everything seems to be going well. Kestrel's engaged to Valoria's Crown Prince, and she's on her way to accepting the fact that she's going to be married to a man she doesn't love. It's not too bad, considering she'll be the empress. And Arin is the new governor of Herran, working to help his people pick themselves up. But Arin is invited to the Valorian capital for Kestrel's engagement. The rumours surrounding them still haven't faded away, and neither have their feelings for each other. And the emperor has an agenda of his own, one Kestrel needs to figure out before all of Herran pays.
Firstly, The Winner's Crime is written beautifully. I don't know why I didn't notice this in The Winner's Curse, but the prose flows along so well, and somehow the metaphors don't weigh it down to purple prose (see: Shatter Me). I was constantly squealing at how quotable it is—if not for the facts that I needed to write this review RIGHT now and my annotated file is not with me, it would be entirely peppered with quotes.
Arin was great as usual, but for me Kestrel's development was fantastic. Where before I thought Kestrel rather passive, I absolutely adored her in The Winner's Crime. We really see how clever she is, and more than anything that's what I love about her. Her talent is thinking, and while she does make some mistakes it's great to see a YA heroine with her head on straight. Also Arin and Kestrel together—swoon.
The entire plot fits together so well. It's like a puzzle where the pieces are all handed to the reader, but the big reveal is still a BAM! in your face surprise. Just like in The Winner's Curse, Marie Rutkoski does an insane job with the conspiracy-and-politics side of the story. I think it's one of the few YA high fantasies I've read with genuinely intricate conspiracies and I love that.
The only things that stopped me from going into complete book-rapture stage? One, this cover. I strongly dislike it. What is this, America's Next Top Model? The Winner's Curse cover was so much nicer. Secondly, my ARC had several strange typos and grammatical errors. But those will probably be fixed by March anyway.
Overall, I'd say this book was a huge win for me, and I cannot wait for the next one!
I received a free galley of this book from NetGalley in exchange for an honest review.