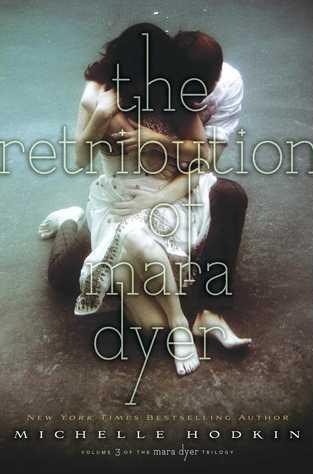 Title: The Retribution of Mara Dyer
 Series: Mara Dyer (#3)
 Author: Michelle Hodkin
 Genre: YA paranormal
 Rating: ★★★★☆
 In short: a great conclusion to a captivating series, not perfect, but satisfying.
Spoilers for the first two books.
Goodreads: Mara Dyer wants to believe there's more to the lies she's been told.
There is.

She doesn't stop to think about where her quest for the truth might lead.
She should.

She never had to imagine how far she would go for vengeance.
She will now.

Loyalties are betrayed, guilt and innocence tangle, and fate and chance collide in this shocking conclusion to Mara Dyer's story.

Retribution has arrived.
I am a diehard lover of this series. No, really. Despite the flaws of the first two novels (and I will admit to their existence) Michelle Hodkin certainly takes you for a ride. The release date for Retribution was pushed back twice, I think. It's a great ending—but I feel like the seeds of that ending should have been better planted in the previous book.
Evolution left us with the collapse of the New Horizons building. Mara wakes up to Kells informing her that Noah is dead, and obviously Mara vows to get even. Retribution picks up where book two left off. Mara is trapped in New Horizons with Jamie and Stella. The three engineer a mad escape with unlikely help, and make their way to New York to find out more about the mysterious scientific experiment Kells is studying. The book is told alternately from Mara's POV and her grandmother's, more genetic memories I assume, but it's not actually made clear if Mara can 'see' what the reader does. But more on that later.
What I loved about this book was how full of Mara it was. From the beginning I really loved her, because she was terribly flawed, selfish, temperamental, but so full of a desire to protect her family (and her family actually plays a huge role in the story, unlike most other YA novels). Because of Noah's absence we get to see Mara alone, unforgiving and wielding her power like an avenging angel.
What I didn't like? Retribution introduces a lot of plot points that were previously not mentioned at all. Some of those were things the fandom has already guessed at (I won't say what) but some were very new. I think the sense of what is going on should I have known this already really threw me off. Also, I was never a fan of the genetic memories. Now they served as almost info-dump scenes, to explain aforementioned new plot points. Hmmm. And like I said before, I didn't ever know if Mara knew or not. It's definitely an unplanned trilogy, but not as crazy as some. *cough* Allegiant *cough*.
Mara's characterisation and Michelle's lovely writing saved the book from slumping because of the above. There's one particular scene that fans will adore, insert knowing smirk. I still think it's a fitting end to the story, and a great read otherwise.