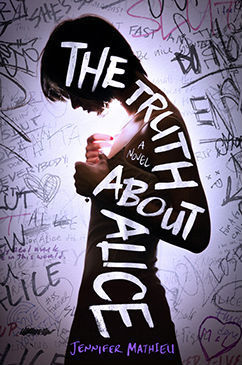 Title: The Truth About Alice
 Series: Standalone
 Author: Jennifer Mathieu
 Genre: contemporary
 Rating: ★★★½
 In short: a tried-and-tested story that comes with compelling characters and voices that jump off the page.
Goodreads: Everyone knows Alice slept with two guys at one party.

But did you know Alice was sexting Brandon when he crashed his car?

It's true. Ask ANYBODY.

Rumor has it that Alice Franklin is a slut. It's written all over the bathroom stall at Healy High for everyone to see. And after star quarterback Brandon Fitzsimmons dies in a car accident, the rumors start to spiral out of control.

In this remarkable debut novel, four Healy High students—the girl who has the infamous party, the car accident survivor, the former best friend, and the boy next door—tell all they know.

But exactly what is the truth about Alice? In the end there's only one person to ask: Alice herself.
This book has a pretty cliché storyline: high school 'slut' is blamed horrifically for something she didn't cause, she spirals down the social ladder, and the reader watches the fallout. I can't say that The Truth About Alice has any kind of fresh spin on that. But the reason I really liked it was the characters.
The story is told through several POVs: Elaine O'Dea, popular girl and Brandon Fitzsimmons's on-again, off-again girlfriend; Kelsie Sanders, Alice's ex-best friend; Josh Waverly, Brandon's best friend; and Kurt Morelli, resident genius. Jennifer Mathieu has a way of bringing all of these characters to life. All four of them are, in their own way, a little guilty or very guilty when it comes to Alice's situation. It was so great watching their motivations and their personalities grow—and then when their actions were revealed, it was like a ten-ton blow. The careful unfolding of events wouldn't be what it was without the characters. I think that was where The Truth About Alice really shone—its dissection of teenagers without labelling any as 'good' or 'bad'. We only get Alice's POV once at the very end, though, and it's a bit lacklustre because the mystery has already unfolded. The ending was actually my only problem with the story.
Books like these are really difficult to conclude, purely because they begin with a shocking event, travel back to explain that event, and when they catch up to present time the story has built up to a crazy crescendo that it's very hard to end without seeming anticlimactic. For me, Thirteen Reasons Why by Jay Asher really succeeded there, while Amanda Maciel's Tease didn't so much (Tease also really reminded me of this book). The Truth About Alice examines each of the players' parts in the story and when we got to the big reveal (which in itself was kind of anticlimactic, in retrospect) the story was progressing at the speed of a train. The two or so chapters after that? Yeah, no. Elaine's chapter just felt contrived (something you'll understand if you've read both this and Tease) and Alice's, like I mentioned before, was unimpressive though cute.
Overall, though, I did really like this book. It deals with issues like slut-shaming and bullying in a great, thought-provoking way, one I'm glad YA books are following more lately. Seeing the bullies' POV really emphasises the awful things that boys and girls all over the world have to go through. Jennifer Mathieu really knows how to write a character, flesh and blood and soul.