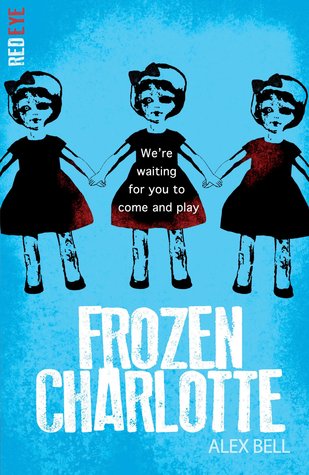 Title: Frozen Charlotte
 Series: Standalone
 Author: Alex Hall
 Genre: paranormal, horror
 Rating: ★★★½
 In short: a great creepy atmosphere, a main character I liked, but not so high on the suspense ladder. Still a fun read if you're looking for something to curl up with.
Goodreads: We're waiting for you to come and play. Dunvegan School for Girls has been closed for many years. Converted into a family home, the teachers and students are long gone. But they left something behind… Sophie arrives at the old schoolhouse to spend the summer with her cousins. Brooding Cameron with his scarred hand, strange Lilias with a fear of bones and Piper, who seems just a bit too good to be true. And then there's her other cousin. The girl with a room full of antique dolls. The girl that shouldn't be there. The girl that died.
Horror isn't a genre I read very often, but this one (despite its flaws) hooked me totally. I read it in just one sitting. It has a really great atmosphere too—you could sense the creepy oozing out of this one. And unlike in most horror movies, I actually liked the main character. Sophie's head wasn't bad to live in at all. It's a quick read, the kind you want to read in one go.
The plot itself was interesting—though the concept of the dolls is never fully explained, I think that just adds to the whole creepiness of the story. But. I saw the plot twist coming from a mile away. If that had been a bit more subtle, Frozen Charlotte would've been much better. Also, I feel like the main storyline about Jay kind of got lost in everything else. We never understand what happened to him. And the romance, I could've done very well without. So contrived. Ugh.
On the other hand, I loved the way the ballad was woven into the story. It really added to the whole atmosphere. I think this book is worth a look at if you're a casual horror fan.
I received this book as a free eBook from NetGalley in exchange for an honest review.