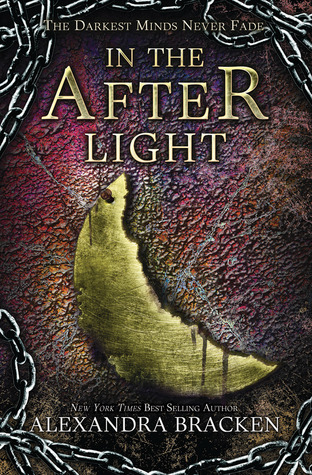 Title: In The Afterlight
 Series: The Darkest Minds (#3)
 Author: Alexandra Bracken
 Genre: dystopian, sci-fi
 Rating: ★★★★★
 In short: this is how you conclude a series! Loved it.
Spoiler warnings for book 1 & 2, The Darkest Minds and Never Fade, so the blurb is under the cut.
Goodreads: Ruby can't look back. Fractured by an unbearable loss, she and the kids who survived the government's attack on Los Angeles travel north to regroup. With them is a prisoner: Clancy Gray, son of the president, and one of the few people Ruby has encountered with abilities like hers. Only Ruby has any power over him, and just one slip could lead to Clancy wreaking havoc on their minds.

They are armed only with a volatile secret: proof of a government conspiracy to cover up the real cause of IAAN, the disease that has killed most of America's children and left Ruby and others like her with powers the government will kill to keep contained. But internal strife may destroy their only chance to free the "rehabilitation camps" housing thousands of other Psi kids.

Meanwhile, reunited with Liam, the boy she would-and did-sacrifice everything for to keep alive, Ruby must face the painful repercussions of having tampered with his memories of her. She turns to Cole, his older brother, to provide the intense training she knows she will need to take down Gray and the government. But Cole has demons of his own, and one fatal mistake may be the spark that sets the world on fire.
Wow. I dived into this right after reading Never Fade, and I'm so glad I started the year with such an epic read. In The Afterlight was (for once!) a series concluder that did not disappoint. It did have its flaws, but the book on the whole made me so happy that I could overlook them. Alexandra Bracken proved that not only can she really turn a phrase, she also knows her story and characters. (Also, fun fact: the titles of the three books make a sentence that'll chill every reader—The darkest minds never fade in the afterlight.)
At the end of Never Fade, after a devastating attack on the League HQ, Ruby and the gang are finally setting out to end the IAAN—through the cure, and through fulfilling Ruby's goal—raiding the camps. The story pans out really nicely, and while I wish the cure's invasive procedure was mentioned earlier so the idea of it could fully set in, I loved the way it worked out. There's no skimping on the action and the badassery, and not on the romance either.
I'm not going to mention any other romantic entanglements other than Liam and Ruby (even though I saw the other one coming) just to keep things spoiler-free. I loved that they didn't become the golden, idealised couple in this book. I loved that they still had problems, disagreements, and that neither of them dismissed the other's shortcomings just because of their feelings for each other. I loved that though there were problems, there was never an overload of angst. Their relationship never stopped them from being who they were, and I think we need more of that in YA.
Cole's dilemma about his abilities was also so wonderful—I feel like it could be a parallel for so many situations kids face. Also, I think Clancy gets the slightest bit of redemption in this book. While I still loathe him, I actually found myself agreeing with him. Imagine. Most of all I loved the ending to this book, from the insane climax to the very last line.
I'll give you the same advice I gave you about Never Fade. If you haven't read In The Afterlight yet, read it. Now.