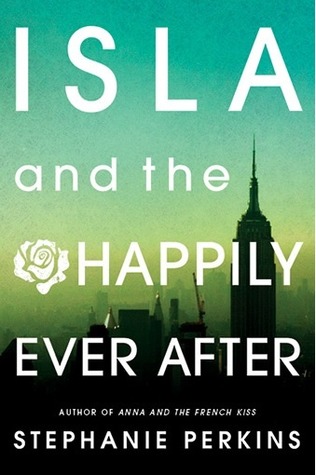 Title: Isla and the Happily Ever After
 Series: Anna and the French Kiss (#3)
 Author: Stephanie Perkins
 Genre: contemporary
 Rating: ★★½
 In short: could've been so much better, knowing Stephanie Perkins. The characters left much to be desired.
Goodreads: Love ignites in the City That Never Sleeps, but can it last?

Hopeless romantic Isla has had a crush on introspective cartoonist Josh since their first year at the School of America in Paris. And after a chance encounter in Manhattan over the summer, romance might be closer than Isla imagined. But as they begin their senior year back in France, Isla and Josh are forced to confront the challenges every young couple must face, including family drama, uncertainty about their college futures, and the very real possibility of being apart.

Featuring cameos from fan-favorites Anna, Étienne, Lola, and Cricket, this sweet and sexy story of true love—set against the stunning backdrops of New York City, Paris, and Barcelona—is a swoonworthy conclusion to Stephanie Perkins's beloved series.
As a rule I don't expect immense depth from the Anna and the French Kiss series, but I do expect good character development and a good storyline—because Stephanie Perkins is a talented author and I know it. I never read Lola and the Boy Next Door, book two, but I did enjoy Anna because it was a fun, quick read. But it always felt like Anna's story and a well-told one at that. Unfortunately Isla and the Happily Ever After didn't work for me mainly because Isla never felt like a real person.
We know from Anna that Isla has a serious crush on artist-delinquent Josh (Étienne's best friend) and this book seeks to develop that crush into a serious relationship. That is essentially the story. So, let me cover what I liked first: the settings were gorgeous as usual. New York, Barcelona, and Paris again—the author really knows where to drop her characters. But none of the characters felt as wonderfully fleshed-out and real as the streets they walked. The plot was really nothing special either. And here's why—or at least my guess why.
It all stems from the unfinished, shallow development of our protagonist. Isla is literally not a person beyond her deep, undying puppy love for Josh. We don't know anything about her that makes her as real as Anna felt. With Anna, we knew her ambitions, her fears, her feelings for her family, her feelings about her old friends—perhaps the perks of having someone uprooting to the completely-new setting of SOAP. Isla obviously has been at the school for years. But I don't think that's an excuse for not fleshing her out on her own. I can safely say, without consulting a copy of the book, that nearly everything she does is in some way to help her relationship with Josh. Not that that's a bad thing, but it made her seem like she didn't exist at all outside of him, and when she wasn't with him she was only a caricature of teenage lust and creepy obsession. The sad thing is, it's not that Isla was not developed at all. There were parts of the book, like her moments with her ex-best friend and when she acknowledges her very real fear of not knowing what she wants to do with her life, when I actually thought, here it is, I will soon understand and relate to her! That moment never came. If only that aspect of Isla had been a bigger part of the story, then maybe it wouldn't seem like she has no life outside of creepily watching Josh.
Not to mention, seeing Josh through Isla's rosy lens of Teen Love™ made him somehow less real. I liked him in Anna, but the whole dreamlike, lurrrrve feel to Isla made my annoyance compound. (Also, when I am already irritated by a book, Rich Kids With Problems™ won't help any.) And we don't get a developed side character at all! Kurt certainly didn't feel rounded to me. Maybe because he missed half the book being ditched by his personality-of-cardboard best friend.
I know that when I picked up this book I was getting a romance. But most YA romances aren't just about the love—they have some sort of storyline outside of it. Something, anything! Every plot point revolved solely around Isla-and-Josh. And not just Isla-and-Josh. Theirs was a tragic, original, fresh spin on love.
We want to be together, but no one will let us!!!1!!!11!!eleven
It's true love, we should go to college together and live together!!! and oh never mind that one of us doesn't even have her life figured out at all-
Yeah, I don't think so. Take me back to Anna. I expected much, much better.