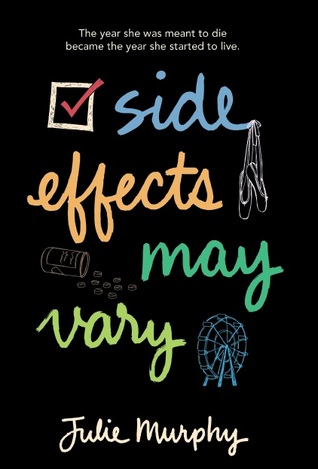 Author: Julie Murphy
Series: standalone
Read: January 24th
Publisher: Balzer + Bray
Release Date: March 18th, 2014
Genre: contemporary
Rating: ★★★★☆
 In short: a great non-cliché approach to the terminal illness trope, realistic characters, and a great story. But I wish the ending had been a little less trite.
Goodreads: What if you'd been living your life as if you were dying—only to find out that you had your whole future ahead of you?

When sixteen-year-old Alice is diagnosed with leukemia, her prognosis is grim. To maximize the time she does have, she vows to spend her final months righting wrongs—however she sees fit. She convinces her friend Harvey, who she knows has always had feelings for her, to help her with a crazy bucket list that's as much about revenge (humiliating her ex-boyfriend and getting back at her archnemesis) as it is about hope (doing something unexpectedly kind for a stranger). But just when Alice's scores are settled, she goes into remission.

Now Alice is forced to face the consequences of all that she's said and done, as well as her true feelings for Harvey. But has she caused irreparable damage to the people around her—and to the one person who matters most?
Move over, The Fault In Our Stars. This is not your typical cancer book. But the main thing to know before you pick this book up is that the main character is horrible. Alice lies, manipulates, and uses almost everyone around her—but that's a big part of what I loved about this book. Alice is seriously far from perfect, and so is Harvey, and so are a lot of the characters in Side Effects May Vary. But hey, isn't that real life? And people with terminal illnesses are not necessarily angels (*cough Bright Side cough*). When Alice finds out she doesn't have much time left to live, she spends it completing a bucketlist—a lot of which consists of revenge. So when she finds out she's in remission, she knows she's going to be in big trouble. Not to mention, she'll finally have to take responsibility for what she's said and done, just when she'd been ready to die.
What shone in this book? The characters. Like I said, I really loved Alice's hellcat attitude. It felt real. And I think settling scores is a fair enough reaction to finding out about a terminal illness. I also loved—in a different way—Harvey's eager-to-please attitude. He chases Alice like a puppy, willing to do absolutely anything for her. Alice completely strings him along, and moony teenager that he is, he goes with it. Sure, that got a bit annoying, but it was so great to read him finally stepping back and telling her no. And I loved their entire dynamic, and the moment they realised that what they were doing to each other was twisted and messed-up. I spent the entire book hoping Harvey would just drop her and move on. But things are never that simple. Sigh. I think, actually, all the relationships in this book were so well-written, whether it's Alice and her mom, Harvey and his mom, Harvey, Dennis and Debora. They felt like real people, and ironically, that's a gem to find in contemporary, realistic fiction.
The book is told in a then/now format, swapping between Harvey and Alice. I'll admit it felt a bit jarring at first, but I grew into it. And again, it's really well-written. I'd definitely recommend this to anyone who likes their characters with more than a touch of nasty.