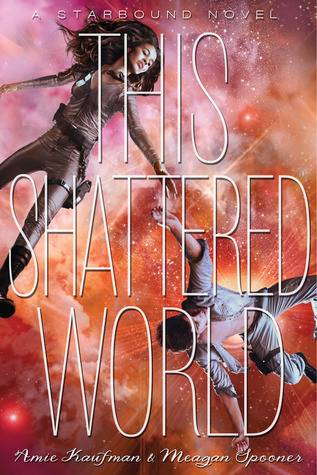 Authors: Amie Kaufman & Meagan Spooner
Series: Starbound (#2)
Read: January 5th-7th
Publisher: Disney-Hyperion
Release Date: December 23rd, 2014
Genre: sci-fi, dystopian
Rating: ★★★★☆
 In short: enjoyable, but not in the way its amazing prequel These Broken Stars was.
Goodreads: The second installment in the epic Starbound trilogy introduces a new pair of star-crossed lovers on two sides of a bloody war.

Jubilee Chase and Flynn Cormac should never have met.

Lee is captain of the forces sent to Avon to crush the terraformed planet's rebellious colonists, but she has her own reasons for hating the insurgents.

Rebellion is in Flynn's blood. Terraforming corporations make their fortune by recruiting colonists to make the inhospitable planets livable, with the promise of a better life for their children. But they never fulfilled their promise on Avon, and decades later, Flynn is leading the rebellion.

Desperate for any advantage in a bloody and unrelentingly war, Flynn does the only thing that makes sense when he and Lee cross paths: he returns to base with her as prisoner. But as his fellow rebels prepare to execute this tough-talking girl with nerves of steel, Flynn makes another choice that will change him forever. He and Lee escape the rebel base together, caught between two sides of a senseless war.
This Shattered World had big shoes to fill in—I loved These Broken Stars. Maybe it was the romance, maybe it was the plot, but I felt like it didn't quite make the cut. (Or maybe it was the fact that I'd binge-read the fabulous Starkillers Cycle just before.)
I'll save you a rehashing of the blurb. To me, the plot was interesting but slow to start. Until about halfway through I was waiting for something to just happen already. There are some books that jump straight to action, and some that spend way too long getting to the point. And This Shattered World is definitely the latter. It's much slower to start than its prequel. And I'll admit, while I appreciate the references to Irish and Chinese cultures, I was a bit disappointed that there was no new culture or race. Yes, it is believable that a small community would hold on fiercely to their cultures, but I think would have enjoyed a new culture—perhaps even an amalgam of earthly cultures and races—far more.
This book's biggest plus was the characters. I loved Lee and Flynn—especially Lee. She reminded me of June Iparis, kind of, and made me long for more military girls. And not to mention the way Spooner and Kaufman bring back Lilac and Tarver. I was so busy squeeing that I could barely read. Again, you really feel the emotional connection with them. These are not the main characters you root for from afar. These are the main characters' minds you actually live in.
The romance, again, was a little lacking. It wasn't that I didn't like it, it was that I didn't quite care for it. I couldn't help but compare it to Lilac and Tarver, whom I loved together from the very beginning. It seems that star-crossed lovers are kind of a theme for this series, but to me at least, this couple was not as swoon-worthy as I'd have liked.
I really liked this book, but for me it sits firmly in the shadow of These Broken Stars. It's important to keep in mind that these books aren't really all-guns-blazing sci-fi (*cough Starkillers cough*) but more of an out-of-this-world (heh) look at humanity. The gorgeous writing, the strong characters, they all add up to that one thing. And I absolutely cannot wait for the last book in this amazing trilogy.