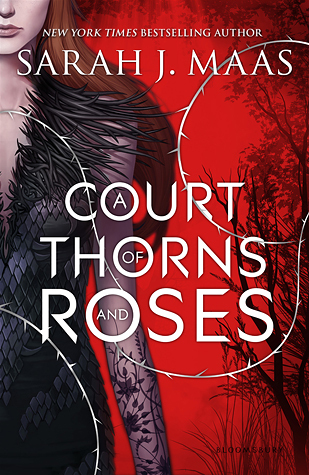 Author: Sarah J. Maas
Series: A Court of Thorns and Roses (#1)
Read: May 8th-9th
Publisher: Bloomsbury Children's
Release Date: May 5th, 2015
Genre: fantasy, retelling, NA
Rating: ★★★☆☆
In short: I so wanted to love this, but I ended up feeling really…neutral towards it. I wanted to love the characters, the romance, the setting, the story…I wanted to get to the end and wish I had the next one. But I ended up not really caring.
Goodreads: When nineteen-year-old huntress Feyre kills a wolf in the woods, a beast-like creature arrives to demand retribution for it. Dragged to a treacherous magical land she only knows about from legends, Feyre discovers that her captor is not an animal, but Tamlin—one of the lethal, immortal faeries who once ruled their world.

As she dwells on his estate, her feelings for Tamlin transform from icy hostility into a fiery passion that burns through every lie and warning she's been told about the beautiful, dangerous world of the Fae. But an ancient, wicked shadow grows over the faerie lands, and Feyre must find a way to stop it… or doom Tamlin—and his world—forever.
I was extremely excited for this, because who doesn't love Beauty and the Beast, and Sarah J. Maas's Pinterest board for the series looked so great. But I'm starting to think her books just don't work for me—the setting of ACOTAR was engaging, but the plot dragged for most of the book, and I think it failed in some ways as a retelling. The ending saved my dive-bombing interest in the story and motivated me to want to read the next one, but again, I seem to get into this same vicious cycle with all of Sarah's books and I'm not sure if that little motivation is worth it. But enough dithering!
≫ THE PLOT:
…in our miserable human world – shielded only by the promise made by the High Fae five centuries ago – in our world where we'd forgotten the names of our gods, a promise was law; a promise was currency; a promise was your bond.
Feyre's stuck with her useless father and bratty sisters, and cares and hunts for them by herself. But it turns out that the wolf she killed was actually one of the Fae, and she must pay the price for harming one of them. She's forced to leave home and live with one of the Fae, Tamlin, a masked stranger. Feyre soon learns that there's far more Fae politics at foot than meets the eye, and she has a far bigger role to play.
The plot is slowwww going. For a huge part of the middle there's nothing much that actually happens, just romantic tension and the like. But my problem with the plot wasn't just in its pacing. It's that Feyre never really seems to suffer any consequences. In the original Beauty and the Beast, Belle is forced to live with the Beast because of her father's mistake, so it's easy to pity her for her suffering; Feyre's error is hers alone, and anything she might go through is really quite…deserved. Blood must have blood, right? But nothing of that sort here. Not to mention you always know Tamlin is going to end up being a gorgeous hunk, and not just because it's inspired by fairy tale. She never seems actually trapped or actually distressed. The ends do, to some extent, justify the means, but it's hard to take interest in the plot or sympathise with Feyre when you know most things will end up working out for her.
≫ THE SETTING:
Now this, I liked. The entire world that ACOTAR is set in is vividly painted and wonderfully imagined. I loved the Fae Courts and their politics; I loved that there's more than just season Courts! A+ on this count, but it still couldn't make up for the draggy plot.
≫ THE PROTAGONIST:
"So young, and so grave. And a skilled killer already."
I can't say I loved Feyre, but I didn't dislike her either. Most of my problems with her stemmed from the fact that she never suffered for the way she acted around the Fae, how she was constantly trying to escape, talking back, and never having to face the consequences for her actions. On the whole, I'm ambivalent about her.
≫ THE OTHER CHARACTERS:
The other Fae at the Summer Court were…mildly interesting. The star of the show is Rhysand, High Lord of the Night Court. Unfortunately, he has a minimal (and villainous) role to play right until the last quarter of the book, which is also when everything starts to pick up. I'm not joking when I say most of my motivation to read the sequel is Rhys.
≫ OF VILLAINS:
In the same way as Feyre, I'm rather ambivalent about our villain, chiefly because of the motivations behind their villainy (no spoilers!) But I'll take it: they devised some really cool trials for Feyre to endure, and I have to appreciate that.
≫ THE ROMANCE:
Stay with him, fall in love with him, and all would be righted.
I was not so impressed with the romance either, and the hot and heavy scenes were also…lacklustre. Mostly because I felt like there was no conflict in the romance!
≫ THE ENDING:
The ending pulled me in hook, line, and sinker. Even though the ~riddle~ was incredibly dumb and simple, the direction this series in heading in excites me. If only the rest of the book had too.
≫ TO SUMMARISE:
I'm not certain if I'd recommend this one; I think I'm going through the vicious cycle of disliking the book, liking the ending, and continuing with the series despite the misery it'll put me through along the way. I just hope I won't feel as on the fence about book 2, because more Rhys!