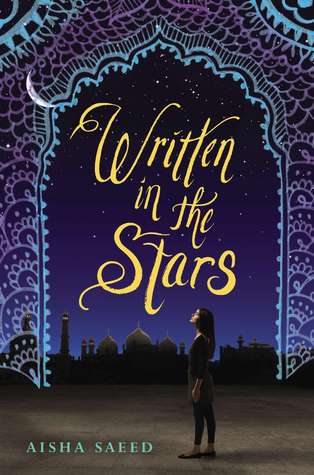 Author: Aisha Saeed
Series: Standalone
Read: May 3rd, 2015
Publisher: Nancy Paulsen Books
Release Date: March 24th, 2015
Genre: YA, contemporary
Rating: ★★★★★
In short: so, so, so important. Gut-wrenching and terrifying and an emotional rollercoaster, and definitely worth the read. Trigger warnings for rape and abuse.
Goodreads: This heart-wrenching novel explores what it is like to be thrust into an unwanted marriage. Has Naila's fate been written in the stars? Or can she still make her own destiny?

Naila's conservative immigrant parents have always said the same thing: She may choose what to study, how to wear her hair, and what to be when she grows up—but they will choose her husband. Following their cultural tradition, they will plan an arranged marriage for her. And until then, dating—even friendship with a boy—is forbidden. When Naila breaks their rule by falling in love with Saif, her parents are livid. Convinced she has forgotten who she truly is, they travel to Pakistan to visit relatives and explore their roots. But Naila's vacation turns into a nightmare when she learns that plans have changed—her parents have found her a husband and they want her to marry him, now! Despite her greatest efforts, Naila is aghast to find herself cut off from everything and everyone she once knew. Her only hope of escape is Saif . . . if he can find her before it's too late.
This novel struck a serious chord with me—maybe because unlike most American readers, I hear about the horrors of forced marriages far more regularly. I love that Written in the Stars takes this theme so, so seriously, sending a firm message and checking off all the right boxes. If you think this is going to be light and fluffy, think again. It's seriously dark, and comes with trigger warnings for rape and abuse.
≫ THE PLOT:

"You can choose many things," she continues. "You can choose what you want to be when you grow up, the types of shoes you want to buy, how long you want your hair to be. But your husband, that's different. We choose your husband for you. You understand that, right?"
Naila's grown used to her conservative parents differing from her on several things. Which is why she knows that if she wants to go to prom with her secret boyfriend, it has to be completely secret. Her parents catch her and decide it's time she needs to reconnect with her roots, which means a trip back to their homeland, Pakistan. Naila is ready for a fun vacation with her family and isn't that bothered by her parents swooping down on her and taking her away…until she realises they don't mean to ever let her come back. Naila's life becomes a horror story as she's married off to someone she doesn't know and her parents leave her behind in Pakistan; her only hope for escape is her boyfriend, Saif, who keeps trying to contact her. But that's if she can maintain hope at all.
There are so many great things about this plot. The fact that there's actually a YA book out there with this kind of plot is, to me, a big deal. Not many people understand what it's like to endure a tragedy like this and the situation around it. Aisha Saeed handles it so, so well. Another bonus? Never ONCE does she make this about religion. Nothing in the entire book points to Islam as the cause of Naila's ill-treatment, and I applaud that.
≫ THE SETTING:
I loved the setting of the village in Pakistan; if I'm not wrong, the village is never named, and that to me is symbolic. This could be happening anywhere. Right now. In a village in some part of the world. That aside, the descriptions of the culture and language—I could totally relate to the masses of relatives and the yes-aunty-ji moments—were amazingly in-depth and realistic. I also adored the way Naila thinks of Urdu as melodic and familiar, and Islam as a part of her—the former because it's something that non-English speakers think so often but isn't mentioned enough, and the latter because, again, her religion is never blamed for what happens to her.
≫ THE PROTAGONIST:
Life is full of sadness. It's part of being a woman. Our lives are lived for the sake of others. Our happiness is never factored in. […] I don't know what it was like for you in America, but this is how life is. This is reality.
I am not exaggerating one bit when I say I probably shed more tears for Naila than any character ever. But that's not to say she's just a damsel in distress or someone to be pitied. I really, truly went through the emotional rollercoaster with Naila, from her defiance to her frustration to her numbness, and most importantly her hurt and confusion—how could her parents do this to her, and think she would thank them for it? The reason this novel soars is how easy it is to connect with Naila.
≫ THE OTHER CHARACTERS:
They think there's only one way to do things because it's all they ever knew, but they're not bad people, Saif.
And that quote sums up everything there is to know about the secondary characters. Most of them are Naila's family, and they're not bad people. They're so realistic—again, this is something I could relate to much better because I can see echoes of it in my own country. They're all so wonderfully written, particularly Naila's sister-in-laws. A+.
≫ THE ROMANCE:
I love that Saif and Naila were adorable and caring and kind—but not unrealistically so—but most importantly, I love that their romance never overshadowed the real story.
≫ TO SUMMARISE:
Seriously, read this book. Put down a Colleen Hoover or a Sarah Dessen—not to say those authors don't write about important issues, but to have a woman of colour author write about a woman of colour in an underrepresented culture without ever degrading said culture? Yeah, I don't need to spell out why it's socially important. But even if you're not looking for a book with a message, Written in the Stars will make you feel, keenly and raw.