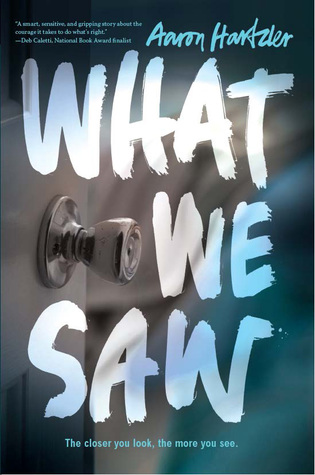 Author: Aaron Hartzler
Series: Standalone
Read: September 30th-October 1st, 2015
Publisher: Harper Teen
Release Date: September 22nd, 2015
Genre: YA, contemporary
Rating: ★★★★★
In short: Pretty much left me speechless. Powerful, frightening, and raw. Trigger warning for graphic rape.
Goodreads: Kate Weston can piece together most of the bash at John Doone's house: shots with Stacey Stallard, Ben Cody taking her keys and getting her home early—the feeling that maybe he's becoming more than just the guy she's known since they were kids.

But when a picture of Stacey passed out over Deacon Mills's shoulder appears online the next morning, Kate suspects she doesn't have all the details. When Stacey levels charges against four of Kate's classmates, the whole town erupts into controversy. Facts that can't be ignored begin to surface, and every answer Kate finds leads back to the same question: Where was Ben when a terrible crime was committed?

This story—inspired by real events—from debut novelist Aaron Hartzler takes an unflinching look at silence as a form of complicity. It's a book about the high stakes of speaking up, and the razor thin line between guilt and innocence that so often gets blurred, one hundred and forty characters at a time.
I distinctly remember the Steubenville rape case because not only was it a disgusting and brutal crime, but several news channels and the town itself seemed to rally behind the rapists. What We Saw's Coral Sands is quite similar, and the rapists' basketball-hero statuses makes the victim suffer all sorts of name-calling. Honestly, what struck me about this book is that it doesn't just deal with silence as complicity. It points out how rape culture and sexism pervade our society in the littlest of ways—including pop lyrics.
≫ THE PLOT:

"It's just . . . why are we automatically assuming the guys are the ones telling the truth?"
Christy's eyes go wide. "Excuse me? Did you see the skirt Stacey was wearing at that party? I have washcloths made of more fabric."
When pictures of and jokes about how drunk Stacey Stallard was at a party blow up on the Internet, Kate Weston is unnerved by how closely she escaped being involved in the situation—feeling sick, she'd gone home early. But then things get worse. Stacey accuses four guys from their high school of raping her, and Kate's small town erupts in scandal. Every other person is badmouthing Stacey for dragging the boys' names through the mud, for dressing 'provocatively.' Kate and her soccer friends can't believe something like this would happen, involving people they know. Kate's new boyfriend Ben, her childhood friend, is on the basketball team and friends with the accused. As the case gains national coverage and the town starts taking sides, Kate's caught in the middle wondering what exactly the truth is—and the complicity of the people she knows and loves.
Again, I love that What We Saw doesn't just deal with the actual rape case. It's the subtle slut-shaming all around, it's the way people react to the case, it's the way that Kate's little brother, a freshman, absorbs sexism. It really tells an all-around story of society.
≫ THE SETTING:
"Well, I just think it's awful what that Stallard girl is doing to them. Dragging their good names through the mud. If you ask me, they oughta arrest her mother and put that poor girl in a good Christian home."
Tiny Coral Sands is the perfect setting for this story—a town that literally revolves around high school basketball and worships the players. Everyone from the secondhand store owner to the principal is on the boys' side. And what makes it even worse is that Stacey's from a bad part of town…
≫ THE PROTAGONIST:
…I wonder which is worse: the fear of the unknown? Or knowing for sure that something terrible is true?
Kate was such a great character. Despite her confusion, despite her horror at the idea that her classmates did something so terrible, despite everything, her curiosity wins out. She has to know the truth, and everyone else needs to hear it too. That intrinsic part of Kate was why it was so easy to connect with her—just like a reader racing towards answers, Kate needs to know. It was also great to see her scientific attitude and the way she questions everything. Her feminist growth was awesome.
≫ THE OTHER CHARACTERS:
It's true that most of the town sides with the boys, but everyone is nuanced and fleshed-out in their thinking. There's Ben, who operates on a don't-know-not-involved basis; Kate's friends Christy, firmly against Stacey, Rachel, afraid and confused, and Lindsay, firm in her belief that the boys are wrong. Then there's Kate's parents. And Kate's brother Will, who may or may not be turning into an asshole. This book has such a great cast of characters, it really adds to the way What We Saw examines so many different perspectives.
≫ THE ROMANCE:
Kate and Ben were so interesting, but not because they were cute. I mean, they were, sometimes. But they have the constant shadow of that night hanging over them, and slowly, Kate's doubt starts to get to her. For me, the romance was far more about Kate than Ben, which was very well done.
≫ TO SUMMARISE:
Reeeeead it. What We Saw is such a great examination of rape culture in society, and it's seriously a rollercoaster of emotions.