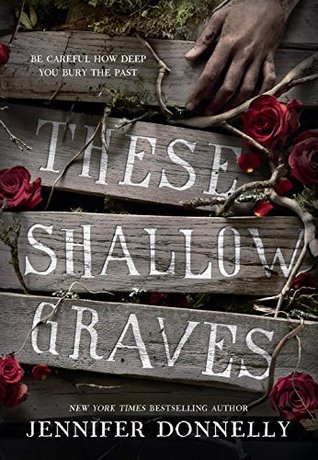 This week's reviews are fourfold. I review The Rose Society by Marie Lu, These Shallow Graves by Jennifer Donnelly, Hidden Huntress by Danielle L. Jensen, and The Creeping by Alexandra Sirowy. No spoilers for prequels!
The Rose Society by Marie Lu (The Young Elites, #2)
Read: October 14th
Genre: high fantasy
Rating: ★★★¾
I absolutely adored The Young Elites. It was easily one of my favourite books of last year. Somehow—perhaps it was the hype—The Rose Society just doesn't match up.
Adelina and Violetta escape the clutches of the Inquisition Axis, and look to gather a team of their own so Adelina can take revenge on the people who've taken everything from her. Meanwhile, Raffaele and the Daggers take refuge in Beldain, and receive a strange offer from Queen Maeve. Perhaps what bothered me the most about this book was Adelina's villainous alignment. Not that I didn't expect it, but I have to say it coloured my impression of the book, because I was constantly screaming at her not to do the thing, and then she did it. And not simply 'evilly', but sometimes really darn stupidly. It seemed to me that Adelina becomes more chaotic than nefarious, which is cool but doesn't make for a logical plot or a logical character. Because I couldn't get on board with her as easily as in the prequel, I didn't enjoy it as much. Also, I get the feeling that Adelina's tug between right and wrong is now going to have another dimension…in her love interests! That's right. Plural. What did we do to deserve this? Why can't her conflict be inner? Why does it need to manifest in romance? I also felt like the resolution—really the entire epic battle—felt far, far too easy. Oh, well, we'll see what happens in book three.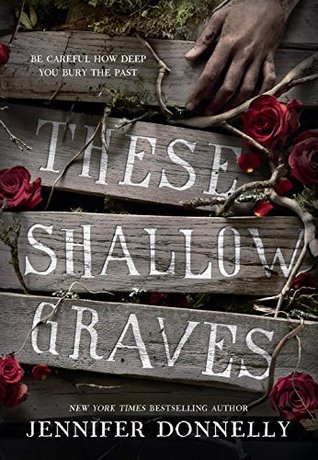 These Shallow Graves by Jennifer Donnelly
Read: October 31st
Genre: mystery, historical
Rating: ★★★★½
These Shallow Graves is definitely a catch. The historical mystery follows Jo Montfort, an old-money girl in 1890s New York, as she tries to unravel the truth behind her father's death. Jo was a fabulous heroine; as an aspiring journalist, she won't stop till she gets to the truth. I actually forgave this novel its arranged marriage type love triangle because of the way it was written, so, further pro! I love how the historical setting was so easy to get immersed in, and the descriptions of the rougher parts of New York at night were so detailed I felt like I was the one snooping around. Further pros: a mystery that's really edge-of-your-seat and exciting—I did guess the answer, but that's only because this book wired me so much that I was suspicious of literally everyone. Definitely read it!
The Creeping by Alexandra Sirowy
Read: September 1st
Genre: mystery, horror
Rating: ★★★★½
Here's a mystery that actually lives up to its title! The Creeping is nothing if not creepy. Years ago, Stella and Jeanie entered the woods, and only Stella came out. Now there's a fresh dead body, and Stella's tired of hiding from the answers.
Stella is far from a perfect character, but I could still sympathise with her—even when she was being extremely frustrating. The romance is quite adorable as well. But what really makes this book shine is the writing. It's beautiful, it's haunting, it's atmospheric, and it captures all the heavy terror that I like a mystery/thriller to have. The mystery unravels so well too!
Hidden Huntress by Danielle L. Jensen (The Malediction Trilogy, #2)
Read: July 30th-31st
Genre: high fantasy
Rating: ★★★★☆
The sequel to the wonderful Stolen Songbird is a great follow-up. Now living her dream of singing in the city, Cécile is still looking for the witch who will break the trolls' curse. Her powers are blossoming just as she's trapped into a deadly promise—she must find Anushka or kill herself trying.
I know other reviewers complained about the change of scenery and the wordbuilding that accompanied it, but I adored Trianon. We finally get a properly constructed world, and it was so lovely to read about. Also, we get Tristan's POV, and surprise, it's actually really good! I generally am wary of books that start out with one POV and expand, but Danielle Jensen knows her stuff. Tristan and Cécile have distinct voices and equally enjoyable chapters. In a sense Hidden Huntress is something of a bridging book—you can tell it's paving the way for the third book—but I didn't mind that feeling at all. After all, it was still a great read!