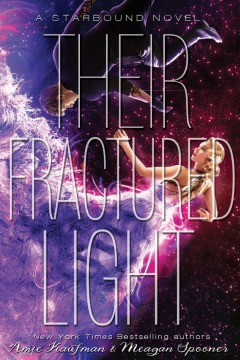 Authors: Amie Kaufman & Meagan Spooner
Series: Starbound (#3)
Read: December 4th-8th
Publisher: Disney-Hyperion
Release Date: December 1st, 2015
Genre: sci-fi, dystopian
Rating: ★★★★½
 In short: a well-written, engaging conclusion that wraps up the Starbound series wonderfully well!
Spoiler warning for the first two books.
Goodreads: A year ago, Flynn Cormac and Jubilee Chase made the now infamous Avon Broadcast, calling on the galaxy to witness for their planet, and protect them from destruction. Some say Flynn's a madman, others whisper about conspiracies. Nobody knows the truth. A year before that, Tarver Merendsen and Lilac LaRoux were rescued from a terrible shipwreck—now, they live a public life in front of the cameras, and a secret life away from the world's gaze.

Now, in the center of the universe on the planet of Corinth, all four are about to collide with two new players, who will bring the fight against LaRoux Industries to a head. Gideon Marchant is an eighteen-year-old computer hacker—a whiz kid and an urban warrior. He'll climb, abseil and worm his way past the best security measures to pull off onsite hacks that others don't dare touch.

Sofia Quinn has a killer smile, and by the time you're done noticing it, she's got you offering up your wallet, your car, and anything else she desires. She holds LaRoux Industries responsible for the mysterious death of her father and is out for revenge at any cost.

When a LaRoux Industries security breach interrupts Gideon and Sofia's separate attempts to infiltrate their headquarters, they're forced to work together to escape. Each of them has their own reason for wanting to take down LaRoux Industries, and neither trusts the other. But working together might be the best chance they have to expose the secrets LRI is so desperate to hide.
I adored book one, but thought book two suffered from a little sophomore slump syndrome. I was curious to see how this series wrapped up, and I think it was a good ending overall—loads of warm feelings! 
≫ THE PLOT:
"I wondered once if the whispers could see all our data, everything we send through the hypernet. And what they think of it, if they can. What they think of us."
"Our data," she echoes. "You mean…"
"Everything we send. From our parking tickets, to our poetry."
"If I could see all of that," she says quietly, into the dark, "all our anger, the things we say to one another, I wouldn't think much of us."
Sofia Quinn has left her traumatic past on Avon behind, but she's kept her grudges, travelling to Corinth to finally get revenge on Roderick LaRoux. Gideon Marchant is after LaRoux too, for an entirely similar reason. When their paths entangle, they're caught in the crossfires of a plan to take over the known universe. Sofia and Gideon meet Flynn, Jubilee, Lilac, and Tarver and team up to bring down LaRoux Industries once and for all, but they know is only a fraction of the truth.
With This Shattered World, being thrust into a world some time after the events of These Broken Stars was a little jarring. This time I was ready for it, and reconnecting to the Starbound world was far easier. The first quarter or third of Their Fractured Light was a tad slow, but sure enough things pick up. That first quarter's drama felt a tad overdone to me—you'll see what I mean if you read it—but the rest of the novel? Fast-paced, and totally gripping. The plot twists absolutely bowled me over.
≫ THE SETTING:
Finally we get to see decadent Corinth! Except it's not exactly a major part of the story, which was a bit saddening. Avon and Elysium were both so integral to their stories and I loved hearing about them, but Corinth is less so.
≫ THE PROTAGONISTS:
"Funny thing, how we let our choices define us."
Sofia and Gideon were both pretty interesting, cut from a similar mould. They've both seen terrible things and escaped from them. Sofia uses her natural charms to become a con artist, moving from identity to identity as she planet-hops her way to Roderick LaRoux. Gideon is a hacker, with a notorious online persona. They're pretty much neck-deep in criminal activity, and they're both very, very bitter and suspicious. It was great to see them learn to trust each other and rethink their own dark perspectives of the world! (Although, of course, Lilac and Tarver will always be my #1.)
≫ THE OTHER CHARACTERS:
The main characters from the previous books act as supporting cast here, which was amazing! I'm so glad we could see them again, and their own individual personalities still shine through. Ultimate props to the way Tarver is written in this book. Broke. My. Darn. Heart. Other than that, the only major character that's introduced is Roderick LaRoux himself, and he's pretty much a stroke of genius. I loved the look (at last!) at the brilliant, awful man who started it all. And the snippets from another perspective between chapters? I suggest you don't skim them impatiently, because they're important.
≫ THE ROMANCE:
If none of this were happening, if he were just a hacker and I were just a con artist…would anything be different? Would we be any more able to trust each other?
I promise I tried to be totally unbiased. But just like with Flynn and Lee, I felt like Sofia and Gideon (while adorable) couldn't hold a candle to Lilac and Tarver. I get that they both have trust issues and difficult pasts, but the drama in this department seemed, like I said before, a bit contrived. They're cute, but not spectacular. The other two pairs appearing just made the comparison easier to make. And, of course, the fact that they wind up throwing around the l-word…it was all a bit unbelievable.  I will say, though, that this didn't really take away from my enjoyment of Their Fractured Light.
≫ THE ENDING:
I'm going to do my best to hide how exactly things are resolved, but suffice to say that all ends tie up really well. And of course it hits you right in the feelings.
≫ TO SUMMARISE:
I'm sad to bid this series goodbye at last, but I'm glad we had a good run. I can't wait to read more of these authors' work too!