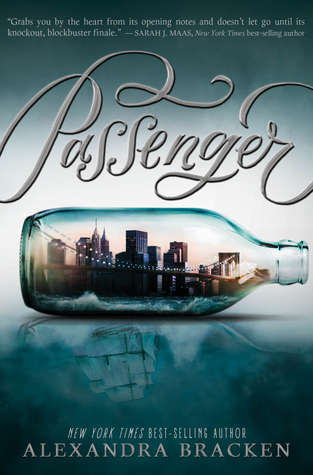 Author: Alexandra Bracken
Series: Passenger (#1)
Read: January 22th-26th
Publisher: Disney-Hyperion
Release Date: January 5th, 2016
Genre: time travel, historical fiction
Rating: ★★★★☆
In short: Passenger is one of the few time travel books I like, with a great cast of characters to boot!
Goodreads: passage, n.
i. A brief section of music composed of a series of notes and flourishes.
ii. A journey by water; a voyage.
iii. The transition from one place to another, across space and time.

In one devastating night, violin prodigy Etta Spencer loses everything she knows and loves. Thrust into an unfamiliar world by a stranger with a dangerous agenda, Etta is certain of only one thing: she has traveled not just miles but years from home. And she's inherited a legacy she knows nothing about from a family whose existence she's never heard of. Until now.

Nicholas Carter is content with his life at sea, free from the Ironwoods—a powerful family in the colonies—and the servitude he's known at their hands. But with the arrival of an unusual passenger on his ship comes the insistent pull of the past that he can't escape and the family that won't let him go so easily. Now the Ironwoods are searching for a stolen object of untold value, one they believe only Etta, Nicholas' passenger, can find. In order to protect her, he must ensure she brings it back to them— whether she wants to or not.

Together, Etta and Nicholas embark on a perilous journey across centuries and continents, piecing together clues left behind by the traveler who will do anything to keep the object out of the Ironwoods' grasp. But as they get closer to the truth of their search, and the deadly game the Ironwoods are play­ing, treacherous forces threaten to sep­arate Etta not only from Nicholas but from her path home . . . forever.
Time travel is a tricky subject to get right. The rules are so often too muddled up to work, which makes for a shaky premise and a shaky story. But Passenger doesn't fall into that trap. I was pleasantly surprised that I enjoyed it so much—and of course there's Alex Bracken's inimitable characters and spectacular writing too!
≫ THE PLOT:
What would it be like, she wondered, to go wherever, whenever she wanted to?
Etta gave up all hope of a normal life for violin, and at last, she's close to making her professional debut. But during a concert, everything suddenly goes wrong and Etta is whisked through time…to the 1700s. She's a traveller, able to go through passages connecting distant times and places. Nicholas, a sailor, is tasked with taking Etta to the Ironwoods, a notorious family of travellers. He has his own history with the family, and he'll do anything to stay away from their contracts and intrigues. It turns out the Ironwoods have Etta's mother, and the only way she'll make it unharmed is if Etta follows a puzzle her mother left and brings him a priceless traveller artefact. But Ironwood is far from the only one after it.
The plot takes a while to get going, but once Etta leaves the 1700s it gets so thrilling. The race through time and space is wonderfully written, and each place is described so vividly it's impossible not to fall in love with it. Also there are some really great discussions of privilege! Aside from a minor issue with pacing, I give this plot a big thumbs up.
≫ THE PROTAGONISTS:
Nicholas and Etta are both narrators and protagonists, and I loved them both for very different reasons.
Etta is sheltered and privileged, but she is never bratty, thank the gods. Her determination and her persistence—marks of a great musician!—make her strong, but Etta's certainly not perfect. She freaks out just as much as she keeps her cool, and I loved that her actions and reactions felt very natural. Plus, she can be super devious when she needs to be. Respect.
Nicholas is very much a product of his times—as an illegitimate African American, he's faced more discrimination than Etta could ever dream of. I love that there is a trickle of resentment inside him all the time, especially in his interactions with Ironwood. He's a very conflicted character, and I rooted for him from the beginning. I also really like that his past experience manifests in his tendency to get overprotective. It was interesting, if annoying at times, but at least it's so far from the usual YA male douche.
≫ THE OTHER CHARACTERS:
Because the characters spend much of the time hopping through…time, only a few characters get development. There's Sophia, who brings Etta to the 1700s. If there's one character I'd definitely pay up to read more about, it's Sophia. Born in a society that teaches her women are just pretty things, Sophia struggles to earn Cyrus Ironwood's respect, and I could sympathise with her so much. For someone who straddles the line between neutral and antagonistic, Sophia really won me over! The other character who we learn anything at all about it Etta's mother Rose, who's mostly a ruthless enigma. And I can't wait to know more about her. Passenger definitely does a good job with its women!
≫ OF VILLAINS:
Ironwood made a very interesting villain indeed. He's mostly in the background for this novel, but I'm guessing we'll see more of him in person, rather than in backstory, in the next book.
≫ THE ROMANCE:
"I don't need a protector," Etta said. "I need a partner."
I did get the slightest feeling that this romance was a little rushed, and there were times when I wanted to grab those two, yank them apart, and shout, "Eyes on the prize!" But it's not too overbearing a romance, and while I wasn't particularly wowed by their connection, it's definitely far from the worst romance I've read in a YA series. I wasn't too thrilled by the romance in Alex Bracken's other series, The Darkest Minds, at first, but now I adore those two, so maybe my view will change here too! Besides, I will give Passenger a plus for a POC love interest.
≫ THE ENDING:
Sort of saw it coming, but the ending was definitely explosive. When I was getting to the end I was constantly thinking, please don't end right now, please don't end right now…I'll have to wait for the next one, I guess. Sigh.
≫ TO SUMMARISE:
Definitely one of the best time travel books I've ever read. Also read for the girl power and the lush descriptions! (I have to say I feel like Alexandra Bracken's writing has become noticeably better!)