I'm back! Very late, I know, but maybe reviewing twelve stories at once will make up for it?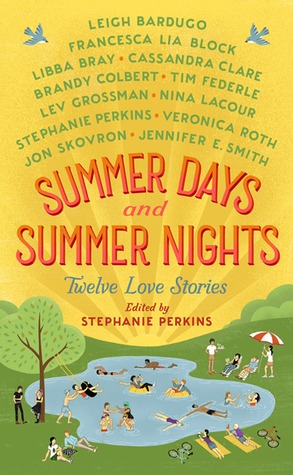 Editor: Stephanie Perkins
Series: Standalone
Read: May 21st-24th
Publisher: St. Martin's Griffin
Release Date: May 17th, 2016
Genre: romance
Rating: ★★★½
In short: Some of these stories were absolutely wonderful, some less so, much like in Perkins's previous anthology.
Goodreads: Maybe it's the long, lazy days, or maybe it's the heat making everyone a little bit crazy. Whatever the reason, summer is the perfect time for love to bloom. Summer Days & Summer Nights: Twelve Love Stories, written by twelve bestselling young adult writers and edited by the international bestselling author Stephanie Perkins, will have you dreaming of sunset strolls by the lake. So set out your beach chair and grab your sunglasses. You have twelve reasons this summer to soak up the sun and fall in love.
Without further ado, here are the twelve stories!
≫ HEAD, SCALES, TONGUE, TAIL by Leigh Bardugo ★★★★★
This town was full of sham monsters, fake witches. But anything was worth a try.
Absolutely gorgeous writing, with a lovely magical realism element: a girl in a small town in the 90s discovers a sea monster in the local lake, and enlists the help of a strange boy who summers in the next town to figure out what the monster is. This was one of those stories where you can literally feel the summer heat and melting ice cream. The romance was adorable too. Definitely a great way to start off the collection!
≫ THE END OF LOVE by Nina LaCour ★★★★★
…the end of love is a fine phrase to ponder, but it's a poor choice for a tattoo. Because just as there are Post-its and red condominium doors, there are also tree branches and coastlines. There are sleeping bags and tents and pinpricks of stars, there are people like her, there is the person I'm becoming.
This is probably my favourite story in the entire anthology. There's a girl caught in her parents' divorce totally unsure how to feel about it…and her feelings for a girl she used to know who suddenly dances back into her life at summer school.
≫ LAST STAND AT THE CINEGORE by Libba Bray ★★½
I was supposed to ask Dani for a date. She was, hopefully, going to say yes. And now we were making a last stand in the Cinegore against a horde of soul-stealing, flesh-eating demons escaped from a cursed movie.
On the night before the local horror theatre shuts down, the teenagers who work there are in charge of playing a movie said to be cursed. I wasn't impressed by this story. It was full of tropes, and I got the feeling that it was trying to tackle them in a comedic way…but it ended up too silly and didn't really work for me.
≫ SICK PLEASURE by Francesca Lia Block ★★
We wore the Keds with miniskirts and white cotton men's T-shirts, which we had altered by cutting off the sleeves and collar bands and writing on them with pink marker the words "Healthy Pleasure." This was in direct response to the punk boy gang who hung out at the same club and wore T-shirts that said "Sick Pleasure", written in black Sharpie.
To be honest, I can't even summarise this story because I don't even…know. It's pretty much just girl-likes-boy. I think Francesca Block's writing is something you have to love to enjoy, and I wasn't really a fan.
≫ IN NINETY MINUTES, TURN NORTH by Stephanie Perkins ★★★★
The word north always felt like something. Marigold wondered when that would stop, when the stilted female voice on Google Maps wouldn't crush her spirit every time it told her to turn north onto the interstate.
This story was a special treat, because it's a sequel to Perkins's story in My True Love Gave To Me, her Christmas anthology. Marigold and North have broken up (NO!), but Marigold decides it's time to sort out her feelings and talk to North about what happened. So well-written; the kicker is North's delightful sense of humour.
≫ SOUVENIRS by Tim Federle ★★★½
…today doesn't seem dreary enough for a breakup, you know?
It's the day Matt is dreading: today, he and his first-ever boyfriend Kieth will break up. Matt's vacillation in this story drove me nuts, but his emotions were very real and well-written. I'm glad that there's a YA story out there that shows a relationship that isn't perfect and has several misunderstandings, but is still caring and cute.
≫ INERTIA by Veronica Roth ★★½
"I know we'll be able to revisit memories we both shared, places we both went to, but nowhere else." My toes brushed the cold tile. "And that it'll happen faster than real life."
In the future, coma patients can have 'Last Visitations' with their loved ones: a chance to relive shared memories and say goodbye before doctors pull the plug or proceed with life-threatening surgery. Claire's ex-best friend Matt is in a coma after an accident, and to her surprise, he's asked to have a visitation with her. For a huge chunk of this story, the eh writing didn't bother me because I thought the "romance" in this story would be platonic. Imagine!! Needless to say, I was disappointed. The story does get points for its depiction of mental illness, but other than that and the concept, I wasn't very impressed.
≫ LOVE IS THE LAST RESORT by Jon Skovron ★★★
…if we are all fools, then perhaps there is some wisdom in falling in love.
Hotel staff play matchmaker with their rich, squabbling guests. Not sure how to feel about this one either, because it was well-written and funny, but resolved a little too quickly.
≫ GOOD LUCK AND FAREWELL by Brandy Colbert ★★★★★
She's leaving. The only person, besides my mother, who has ever understood me—really got me—is moving over two thousand miles away.
Rashida's cousin Audrey decides to move and settle down with her girlfriend, and Rashida, devastated, tries to figure out what the change means for her. I loved this story, because it had such an honest perspective of family and change, especially Rashida's resentment and bitterness. It also had some hard-hitting truths about racism; it's great to see a YA story that's so upfront about things like this.
≫ BRAND NEW ATTRACTION by Cassandra Clare ★
The real truth is, every dark carnival has a familiar. A demon. A real one is the heart of a carnival, powering its darkness, infusing attractions with a sense of menace and the customers with jumpy nerves.
There are serious, worrying changes at Lulu's dad's demon-run dark carnival when her uncle arrives to take over, and it's up to Lulu to figure it out. This story was definitely my least favourite, because not only did it feel way too rushed and convenient at the climax, but it reads so much like Clare's other stories. Love interests who are sort of related? Check. Douche guy who does a dramatic 180? Check (and in a totally unexplained manner). It also gave me serious The Mirror House vibes, which is another short story Clare wrote for Vacations From Hell. To top it all off, the romance between Lulu and Lucas (don't even get me started on the names) never clicked for me.
≫ A THOUSAND WAYS THIS COULD ALL GO WRONG by Jennifer E. Smith ★★★★
But that's the thing about summer: The regular hierarchies collapse like sand castles at this time of year. Everything shifts and settles and takes new shape.

It's a great equalizer, this season.
Annie reprises her job as a counsellor at a kids' summer camp, but this summer will be different. She'll finally ask out Griffin, her longtime crush. I don't know if the depictions of autism were realistic or accurate, but the story's resolution was lovely.
≫ THE MAP OF TINY PERFECT THINGS by Lev Grossman ★★
Our goal was to find every single moment of beauty, every tiny perfect thing, that this particular August 4th had to offer.
When Mark and Margaret get stuck in a time loop that has the world repeating August 4th again and again, they make it their mission to document every wonderful thing that happens on that one day—while Mark falls hard for Margaret. This story was so interesting and the concept was so great, but the ending was way too convenient and fell flat in the worst way. I appreciate the difficulty of ending a story like this because it really did seem like there was no way out, but the actual ending was sappy and deus ex machina, totally stealing from the humour of the rest of the story.
≫ TO SUMMARISE:
The anthology's worth picking up for a light summer read, because I think the good stories in it outweigh the bad.