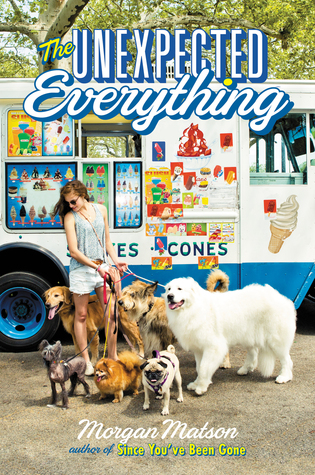 Author: Morgan Matson
Series: Standalone
Read: May 15th-16th
Publisher: Simon & Schuster
Release Date: May 3rd, 2016
Genre: contemporary
Rating: ★★★★★
In short: The Unexpected Everything is just what I expected—funny, heartbreaking, and so, so readable.
Goodreads: Andie had it all planned out.

When you are a politician's daughter who's pretty much raised yourself, you learn everything can be planned or spun, or both. Especially your future.

Important internship? Check.

Amazing friends? Check.

Guys? Check (as long as we're talking no more than three weeks).

But that was before the scandal. Before having to be in the same house with her dad. Before walking an insane number of dogs. That was before Clark and those few months that might change her whole life.

Because here's the thing—if everything's planned out, you can never find the unexpected.

And where's the fun in that?
There are some books that really defeat the odds. Technically, The Unexpected Everything is much longer than books of its kind should be. Technically, Andie's privileged upbringing should've made her difficult to like and annoying. Technically, the text conversations should've been overdone. Technically, several things were predictable. But perhaps those technicalities would only have become apparent, obvious realities if this book had been written by anyone else. Because Morgan Matson has made absolute magic out of this book.
≫ THE PLOT:
…maybe that's what did it. The fact that I had nowhere to be, no plans, no structure to my summer whatsoever. Maybe it was that even though I knew, rationally, I didn't want this job, there was still a part of me that wanted to get it. For whatever reason, I found myself sitting up straight and looking her right in the eye. "I'm totally free," I said. "Let's do it."
Being a politician's daughter means you have to be a planner, and Andie has her fancy Johns Hopkins summer program all planned out. But things fall apart when scandal erupts in her father's office—and they're both stuck at home, together after years of clashing schedules. The bright side is that all of Andie's best friends are in town too, and at least Andie has a job. Even if it's walking dogs, which won't do anything for her resumé. What it does is bring her in contact with Clark: awkward, shy, and the opposite of everything Andie's taught herself to be. Maybe planning isn't always the best idea after all.
To me, the plot was never draggy or boring, but it needs to be said: this book is really, really long. Especially for YA contemporary. It was the good kind of long—please don't end!—and it stayed engaging and fun throughout, but I'm sure some of it could've been shaved off. The plot is fantastic in terms of making you feel, though, because I was sobbing when good things happened to Andie. Actual sobbing. Another thing I loved was how Andie's complicated relationship with her father was such a big part of the plot; it made a great change from the typical absent parent. There was just one reveal that was overwhelmingly obvious to me, but the book maintains suspense with most of its surprises.
≫ THE PROTAGONIST:
Two weeks ago my life had been going to plan. And now there was a podium on the porch.
Andie's character development is another amazing part of this book. She starts off as privileged, haughty, and emotionally distant, but not so much so that I couldn't like her or empathise with her. In fact, it was hard not to feel for Andie. Not once did I roll my eyes and go, oh, poor little rich girl, and I'd say that's an accomplishment in a book about a congressman's daughter. Without characters so vibrant, The Unexpected Everything wouldn't be half as good, and without a narrator like Andie, it would be missing a whole lot of depth.
≫ THE OTHER CHARACTERS:
"You need to dial it back," Palmer said as she pulled out her phone. "Like this afternoon, you texted me 'I'm so whale, dancing girl, dancing girl, blushing smiley, nervous-teeth smiley, star, star, pizza.' " She looked up from her phone. "What was that supposed to mean?"
Another highlight of The Unexpected Everything was Andie's group of friends. There's Palmer, road tripper, stage manager, and Andie's closest friend, and Toby and Bri, who are joined at the hip despite their differences. The girls' group chats were hilarious to read. A lot of the time, texts in YA novels are so awkward and don't at all feel like real teenagers, but these texts were spot-on. Plus, emojis! Also with the best friends are Tom, Palmer's boyfriend and that one melodramatic actor friend, and Wyatt, Toby's longtime crush and that one melodramatic musician friend. I loved that they weren't just realistic characters, but they also had realistic dynamics—some best friends are closer than others, and the book captures that 'squad' feeling so well. There's Clark, of course, who's endearingly awkward and so, so sweet that you can't help but feel sorry for him when Andie talks him down in her internal monologue. Poor Clark. He's such a refreshing change from the typical YA love interest, which I adored. Last but not least is Andie's dad, who's the perfect amalgam of confused-distant-dad who doesn't know if his daughter has a curfew, and Dad™, who makes ridiculous dad jokes and watches bad movies. It's impossible to follow these characters through a book and not go awww all the time.
≫ THE ROMANCE:
"I was just . . . trying to get a sense of your schedule." He blinked, like he'd just heard himself, and I could see the tops of his ears were starting to turn red. "Wow, that sounded creepy. I didn't mean that in, like, a weird way. I think I'm making this worse. Oh god." He took a breath, then swallowed hard. "I was wondering, you know, what you do. At night." He stared at me in horror after he said it, like he couldn't quite believe the words had come out of his mouth.
In applause-worthy contrast to the love interest who actually watches the heroine sleep, we have…Clark. Give it up for Clark, everyone.
The premise with this romance is the typical opposites attract kind of thing, except that…it's far more realistic. Neither of them magically change because of each other. There's loads of ups and downs. The story treats them as characters, and then as a unit—a unit that's by no means concrete. I heartily approved of all of that. Best of all? They were absolutely adorable. You know how typically, you get weepy when/if a couple breaks up? I am 100% serious when I say I cried when they held hands. That's what this book did to me.
≫ THE ENDING:
The climax was equal parts tense and adorable, so it was spot-on for me! I also appreciated that not every part of the ending was simple and happy—because people are complicated.
≫ TO SUMMARISE:
I had no trouble picking this for my monthly must-read. Seriously, give it a go. It's charming, adorable, and singlehandedly restored my faith in your typical YA contemporary.